There are several benefits of recruiting a Rosemont taxi.
Recruiting a Rosemont taxi service can offer several benefits to individuals and businesses alike. Here are some of the advantages of choosing a Rosemont taxi for your transportation needs:
Convenience: Taxis provide convenient transportation options as they are readily available and can be easily hailed or booked in advance. They offer door-to-door service, eliminating the need to locate parking or navigate through traffic.
Professional and Experienced Drivers: Rosemont taxi services employ professional drivers who are well-trained and experienced in navigating the local roads. They possess knowledge of the area, including the best routes to avoid traffic congestion, ensuring a smooth and efficient journey.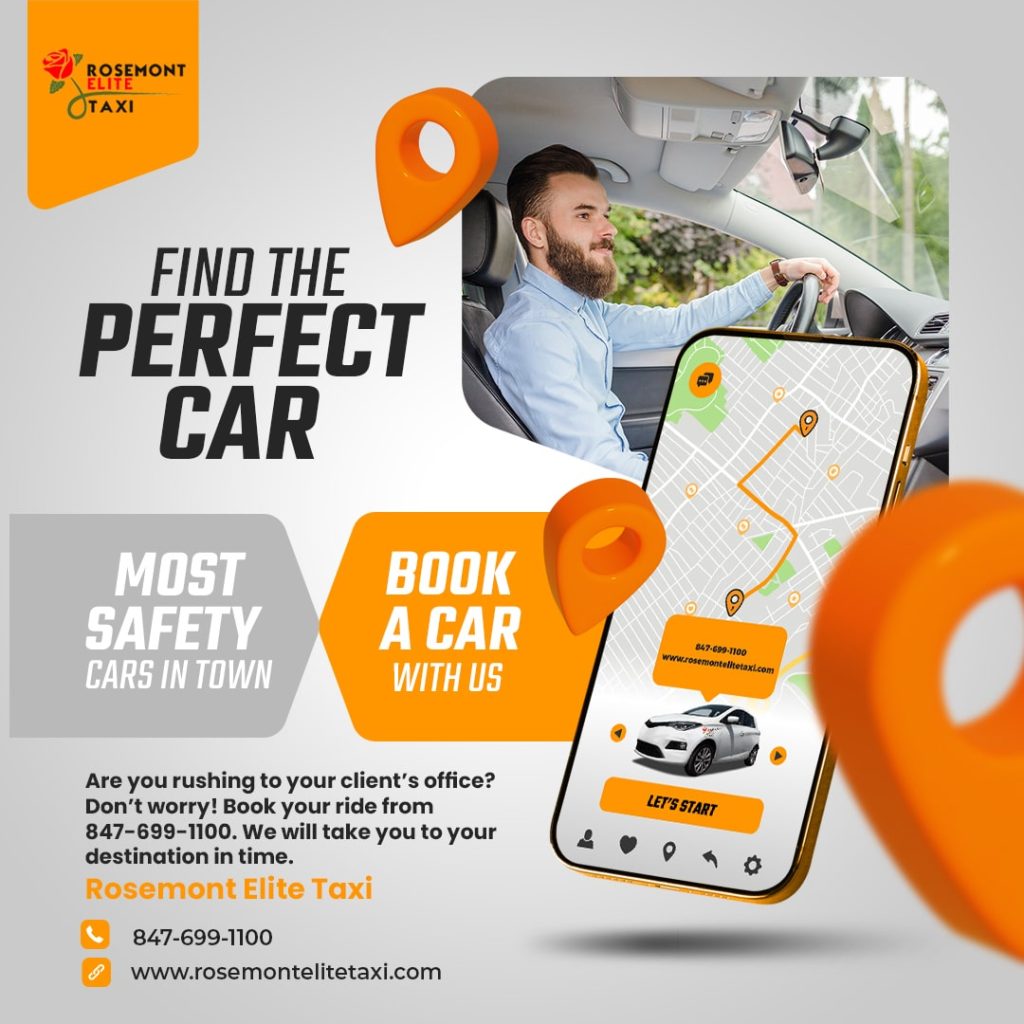 Reliable and Timely Service: Taxis operate on a 24/7 basis, providing reliable transportation at any time of the day or night. By booking a Rosemont taxi, you can be assured of punctuality and timely arrival at your destination, which is particularly important for catching flights, attending appointments, or meetings.
Safety: Taxi companies prioritize passenger safety, and their drivers undergo background checks and rigorous training. Taxis are typically insured and regularly inspected to ensure compliance with safety standards, providing peace of mind to passengers.
Flexibility and Accessibility: Taxis offer flexibility in terms of pick-up and drop-off locations. They can be easily hailed on the street, booked via phone or mobile app, or arranged in advance for scheduled trips. Additionally, taxis can accommodate passengers with special needs or those requiring wheelchair-accessible vehicles.
Cost-Effective: Taxis can often be a cost-effective mode of transportation, especially for shorter distances or when traveling with a group of people. Splitting the fare among passengers can significantly reduce individual expenses, making taxis a budget-friendly option.
Local Expertise: Rosemont taxi drivers are usually familiar with the local area and can provide recommendations on restaurants, attractions, and places of interest. They can also offer valuable information about traffic patterns, weather conditions, and alternative routes to help you reach your destination efficiently.
No Parking Hassles: When you choose a Rosemont taxi, you can avoid the hassle of finding parking spaces, paying parking fees, and dealing with parking restrictions. Taxis drop you off at your desired location, allowing you to save time and effort.
Stress-Free Travel: By opting for a taxi service, you can sit back, relax, and enjoy the journey without the stress of driving in congested traffic or dealing with navigation. This is especially beneficial for business travelers who can utilize their travel time for work or leisure.
24/7 Customer Support: Many reputable taxi companies offer 24/7 customer support to address any queries, concerns, or issues you may have. This ensures a smooth and seamless experience, with assistance available whenever you need it.
Overall, recruiting a Rosemont taxi service can provide convenience, reliability, safety, and cost-effectiveness, making it a beneficial choice for transportation needs in the area.